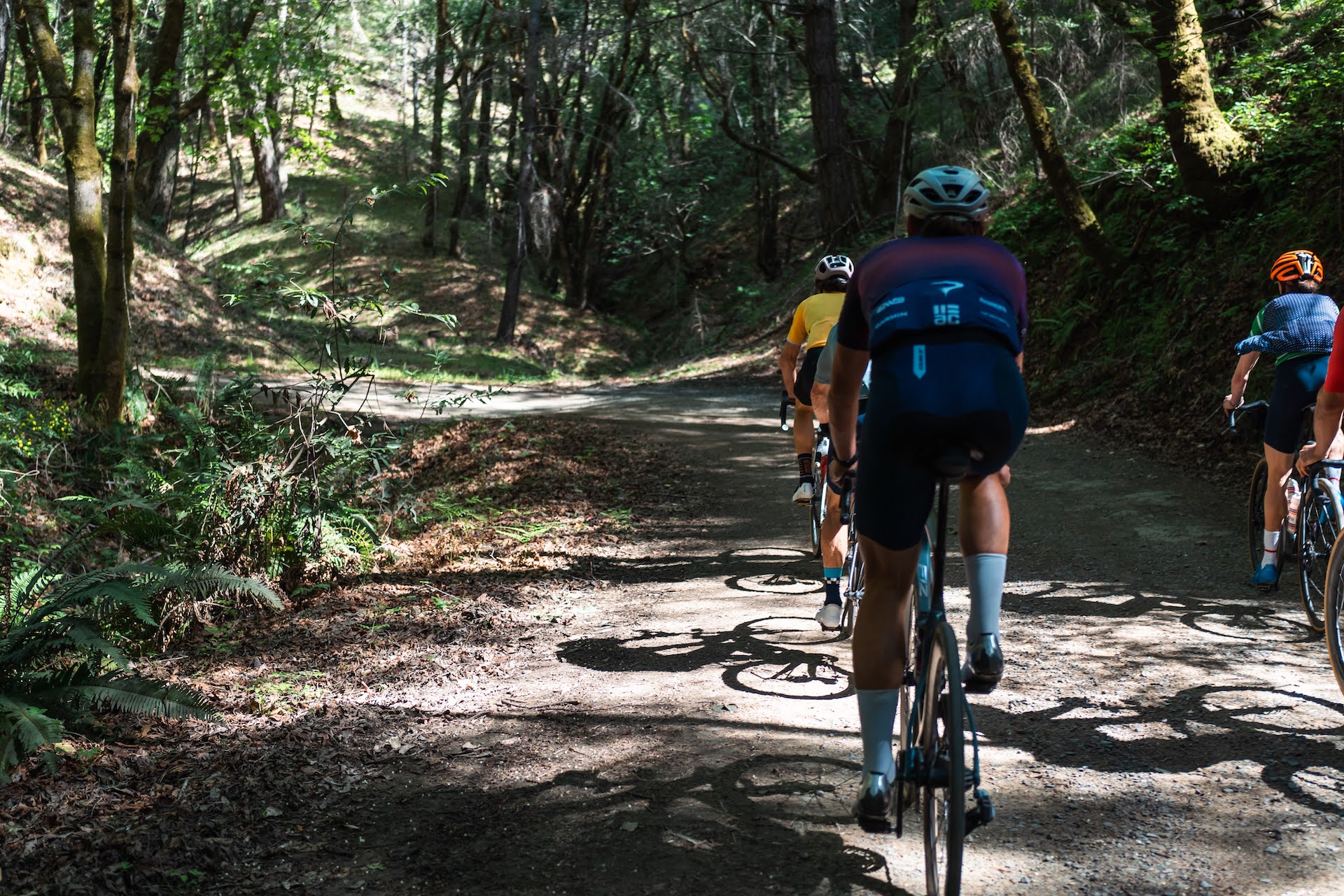 Springtime means cycling time in and around Sonoma County, and Mill District Velo celebrated this month with a series of rides led by our ambassadors and pro-cyclists Ted King and Laura King.
In all the Kings led 11 rides over the course of three weeks that ended April 17. Roughly 40 or 50 people turned out for weekend rides, with 20-30 participants clipping in or rides during the week. Among those who joined the Mill District crew for some rides: U.S. Senator Kyrsten Sinema (D-Ariz.).
Rides varied in length and location, but most incorporated routes that were both challenging and scenic.
"Over the course of these rides we really saw the very best of the county," said Laura King, who led the rides while 30 weeks pregnant. "Redwoods, coast, vineyards—the groups we led really saw it all, and in the process, we gave them a great idea of what it's like to explore and experience Sonoma County, and what it'd be like to call this place home."
King described most of the rides as "rolling," and noted these are best to keep groups together. On the list: Chalk Hill, a Cloverdale/Asti out-and-back, a loop that incorporated Sweetwater Springs Road, and more.
The Sweetwater Springs ride was led by Matthew Accarrino, Chef at SPQR in San Francisco. Accarrino made sure to fuel our cyclists before and after the ride.
One of the King's favorite rides was the first one—a "shakeout" ride in conjunction with the Grasshopper Adventure Series. It started at Duncans Mills near the coast, followed Highway 1 up to Fort Ross, then came back over Meyers Grade and King Ridge (no, this is not named after the King's – although it was this very route where they met and fell in love).
Laura King said the ride was a true "shakeout" for her, as she and Ted had just arrived from their home base in snowy Vermont. "To kick off three weeks in California with some of the best riding on Earth was very special," she said.
While both Laura and Ted King live for the cycling, Laura King said she also has been encouraged by how quickly Mill District Velo has been able to grow a cycling community. She noted that some of the participants in the April rides were participating in their second, third, and even fourth outings.
Even among first-timers, excitement has been palpable. Many of our guests had never been on group rides before, and the experience of making new friends while touring such beautiful terrain changed their entire perspective on group riding.
"First-time guests to the rides at Mill District Velo wonder, 'Are there strings attached?'" Laura said. "Once they realize there are no strings, once they see that they get to come to Wine Country and do an amazing ride with a great group of people, once they see how inclusive it all is, they're hooked. This is what Mill District Velo is all about."
Photos: @gavin_too_much_fun