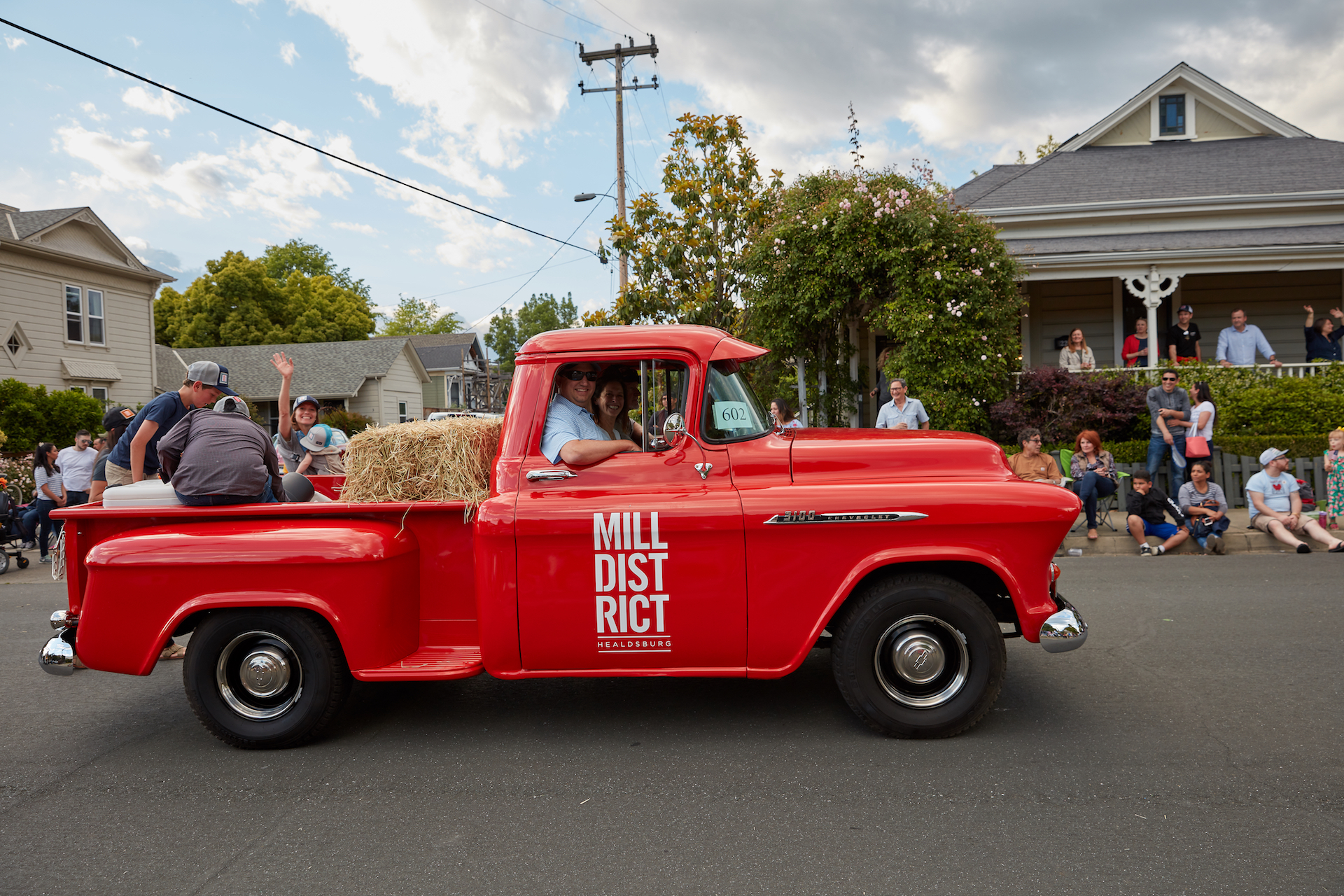 Circle the roundabout or swing by Mill District for the holidays and you'll spot our version of Santa's sleigh: Our red 1956 Chevrolet Stepside Pickup. This truck is typical of what Chevy produced for the light truck buyer, who was usually a rural American farmer or the trades worker and used the truck for utilitarian purposes. The original 6-cylinder motor has been replaced with a custom-built 383 Stroker and it sports a Hurst 4-speed transmission. The workout for the day is that there is no power steering!
The truck has been in the Mill District family since 2017. Since then, it's become a fixture around Healdsburg. We drive it in parades. We tool it around town. And when we're not actively using it as a method of transportation, we park it in front of our soon-to-be new neighborhood for people to admire.
And admire it, they do! Especially over the course of the last few weeks, we've spotted countless locals and visitors posing in front of the vehicle for pictures. We've even heard our 56 Chevy has appeared on a few holiday cards.
"It's an iconic vehicle," said Jim Hall, director of design and construction. "A real classic." If anybody knows about the truck, it's Jim. He is our resident automotive buff. He also is the one who found this little beauty.
While Jim knows some mechanics he trusts, he tries to do most of the work himself. That means he's worked on just about every square inch of the truck. Before we take it out for a spin, we always check with him. Before we decorated it for the holidays, we made sure he was comfortable with where we placed the holly and tinsel.
In a sense, our 56 Chevy is a metaphor for what we're trying to create at Mill District—a product that stands the test of time. The truck will be 66 years old in 2022 and people still love it as much as they did the year it came out. We certainly hope our residences have that kind of staying power.
There is one thing about the truck we desperately need to fix: It needs a nickname.
Inexplicably, when Jim procured the vehicle, it didn't come with a nickname. Since then, he's been so busy he hasn't stopped to come up with one himself. We're certainly open to suggestions. If you have any ideas, please let us know.
Photo Credit: Kim Carroll