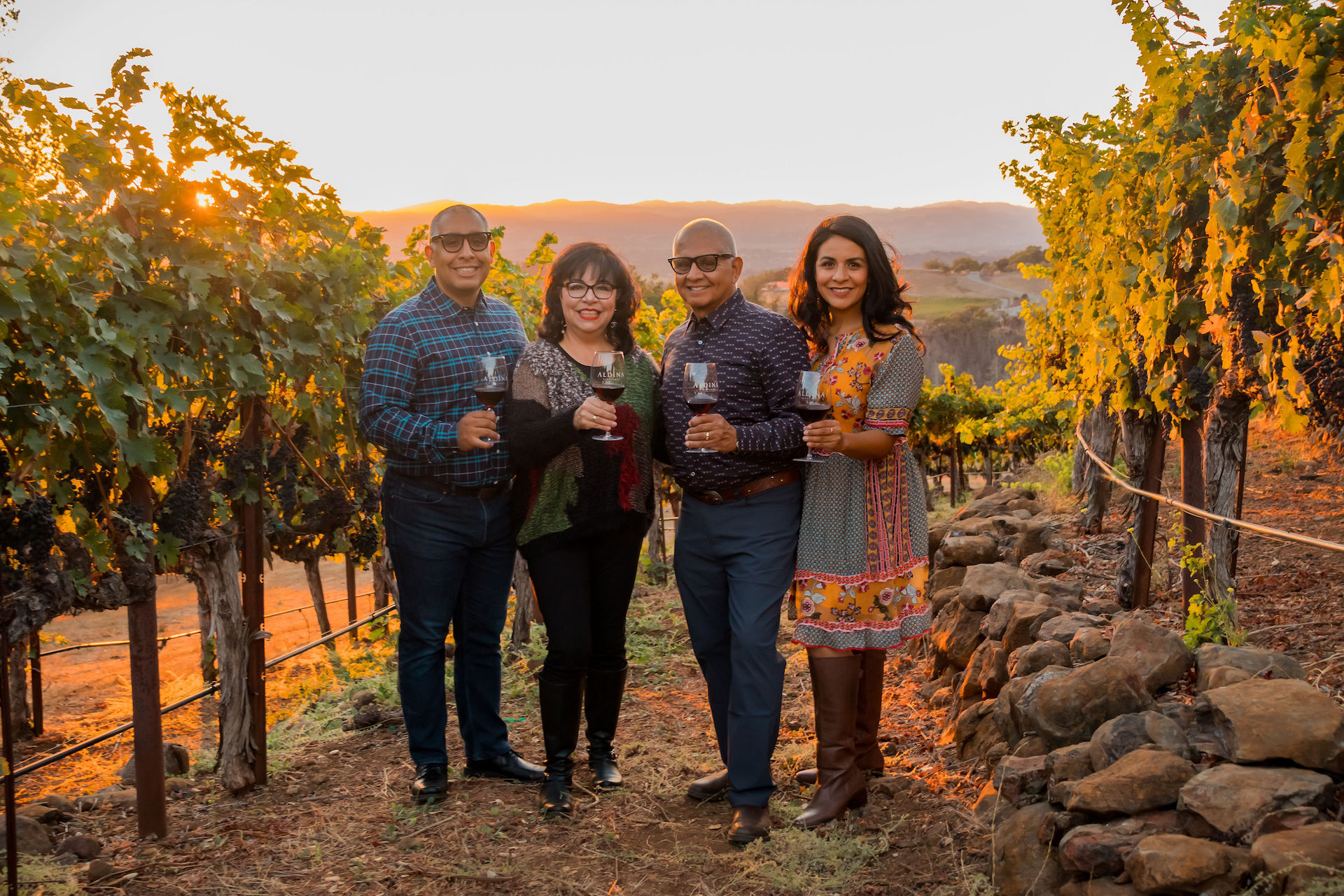 Building a Different Kind of Tasting Experience
Talk about bang for the buck: Healdsburg's newest wine-tasting experience is five different tasting rooms in one.
The space, named Bacchus Landing, plays out like a shopping mall of wine—all the tasting spaces frame an open-air piazza that's perfect for relaxing with friends. Two of the key people behind it: Monica and Francisco Lopez, a dynamic brother-and-sister duo from a local Mexican-American family.
The Lopez kids didn't just create the space; they also own Aldina Vineyards, one of the wine brands.
As Monica explains it, the endeavors represent years of passion and hard work—not just for her and her brother, but also for their parents, Al and Dina.
"My family has wanted to do this for years," said Monica, who grew up in Sonoma County, moved away for a while, and returned to launch the family businesses. "The fact that we're able to come together as a family and do it as one big group is really special."
The wine came first, all the way back in 2012. For the first six years it was a bit of a pet project. Then, in 2018, they launched the brand. Because Al Lopez believes wine should age for 30 months before release, Aldina debuted with three vintages: 2012, 2013, and 2014. It was an unusual beginning, to say the least. But it worked.
Plans for Bacchus Landing began sometime around 2015, and construction started in the fall of 2018.
The first structure to rise on the site just south of the Humane Society of Sonoma County was a standalone, temperature-controlled wine storage warehouse. Construction on the tasting rooms and courtyard began shortly thereafter and wrapped up in spring 2021.
At this point, all five of the Bacchus Landing tasting rooms are occupied—each of the on-site wineries represents different grape varieties and winemaking styles. Aldina shares a tasting space with two other brands: 13th & Third and Dot Wine. Other wineries to call Bacchus home include AldenAlli, Smith Story, Montagne Russe Wines, and The Setting.
The collective also boasts a market, ample patio space, that central piazza, and an event center with a commercial kitchen.
Looking forward, Monica said Bacchus Landing will host a variety of pop-up events from March through November next year, including food truck Sundays (probably from noon to 4 p.m.), and other programming that features local chefs and local artisans.
"We see [Bacchus] becoming a real gathering place," she said. "Community is what it's all about."