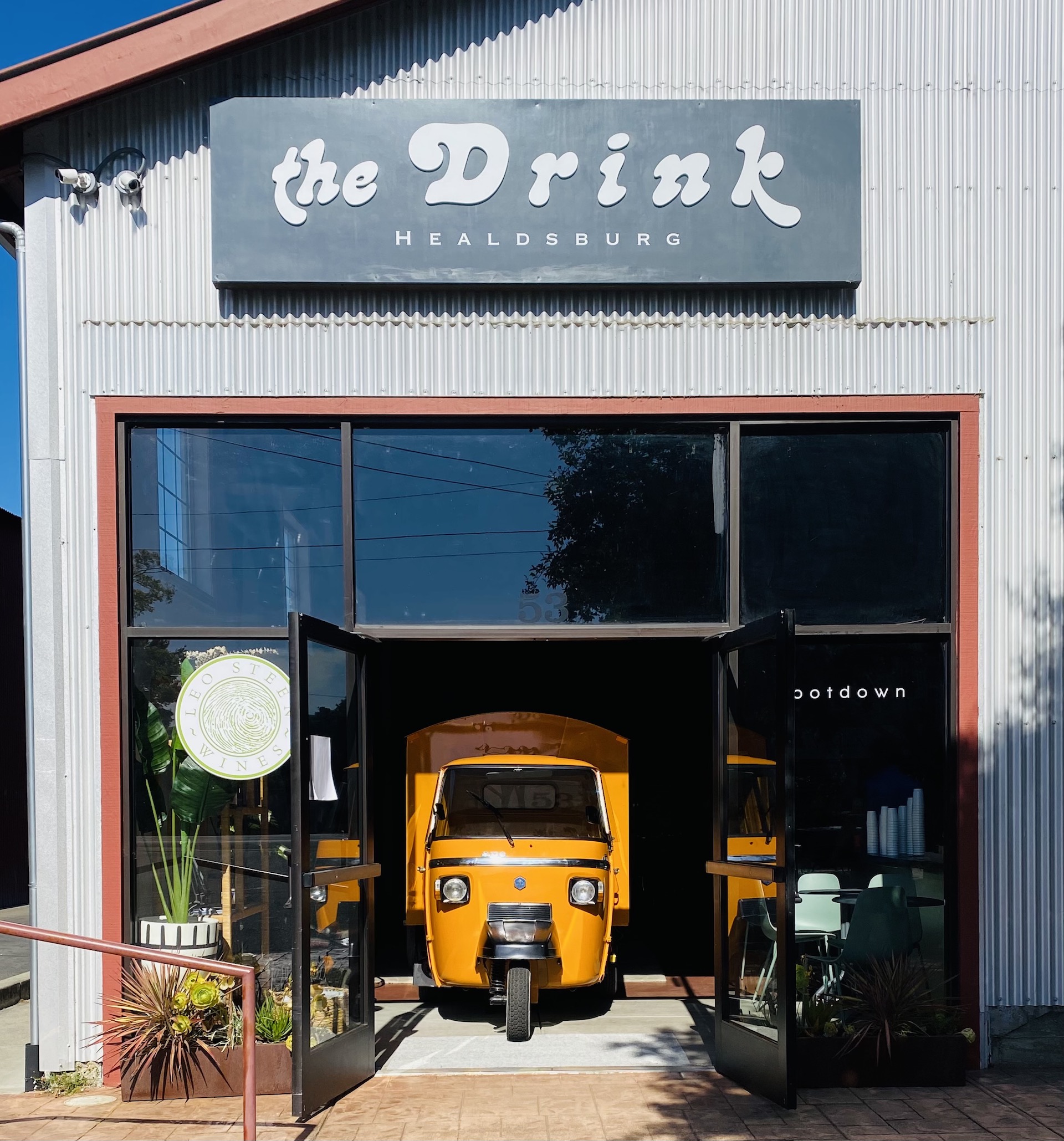 The most popular coffee shop in Healdsburg these days isn't a shop at all – it's a cart parked inside a tasting room on Front Street over by Memorial Bridge.
Drinking Up Success
Dubbed "The Drink," the cart belongs to Debbie Hansen and Leo Steen, owners of Leo Steen Wines.
Technically, it's not a cart at all—it's an Italian scooter called a Piaggio Ape that has been tricked out to carry an espresso machine and all the associated plumbing. Think of the vehicle like an Italian tuk-tuk; instead of carrying passengers, it carries the machinery necessary to make top-quality coffee drinks.
Hansen is the one who manages The Drink; because she launched the business in the early stages of the COVID-19 pandemic, she colloquially refers to it as her Covid Baby. Hansen had been looking for a cart and found this one in Los Angeles in October 2020. The next day, she, Steen, and their two boys were on the way down to pick it up and bring it back to Healdsburg for its new life.
"It all happened very quickly," Hansen said. "The next thing we knew, we were doing this."
The Drink opened in May of this year. The menu is simple—espresso drinks, teas, pastries from Quail & Condor, and an occasional special. No brewed coffee. No food. Nothing too fancy.
The business is partnered with Rootdown Cellars, which also shares the tasting room.
In warm weather, The Drink is parked in front of the tasting space. Earlier this month, she took it inside for the winter. Hansen still takes out the cart regularly for appearances around town. For example, The Drink recently was parked outside The Dailey Method studio on Center Street for a pop-up market after barre class. Other pop-ups are scheduled for the rest of the year.
Hansen isn't the only beverage expert in the family; Steen's wines are beloved around town and beyond. Light and crisp chenin blanc is his passion, and he makes a rose of grenache, chardonnay, and a red field blend, as well.
"In general, I like wines that are delicate and subtly refined," said Steen, who originally hails from Copenhagen, Denmark. "Dry, food-friendly, and low alcohol wines."
Steen arrived as a harvest intern in 1999; his first solo vintage was 2004. That means this year was his seventeenth. Along the journey he has made wine at Stuhlmuller Vineyards, and also has served as the sommelier at Dry Creek Kitchen. Steen and Hansen met through work.
Looking forward, Steen and Hansen plan to keep serving delicious beverages. Hansen envisions reimagining The Drink setup next year to allow a special monthly brunch hosted by local chefs. Steen is excited about this year's vintage, and said his winery will continue to host epic parties through the winter and beyond.
Both entrepreneurs are excited to see the south part of Healdsburg evolve as Mill District grows. We are excited to have such hip and forward-thinking neighbors on our end of town.