Redefining Fine Dining, Yet Again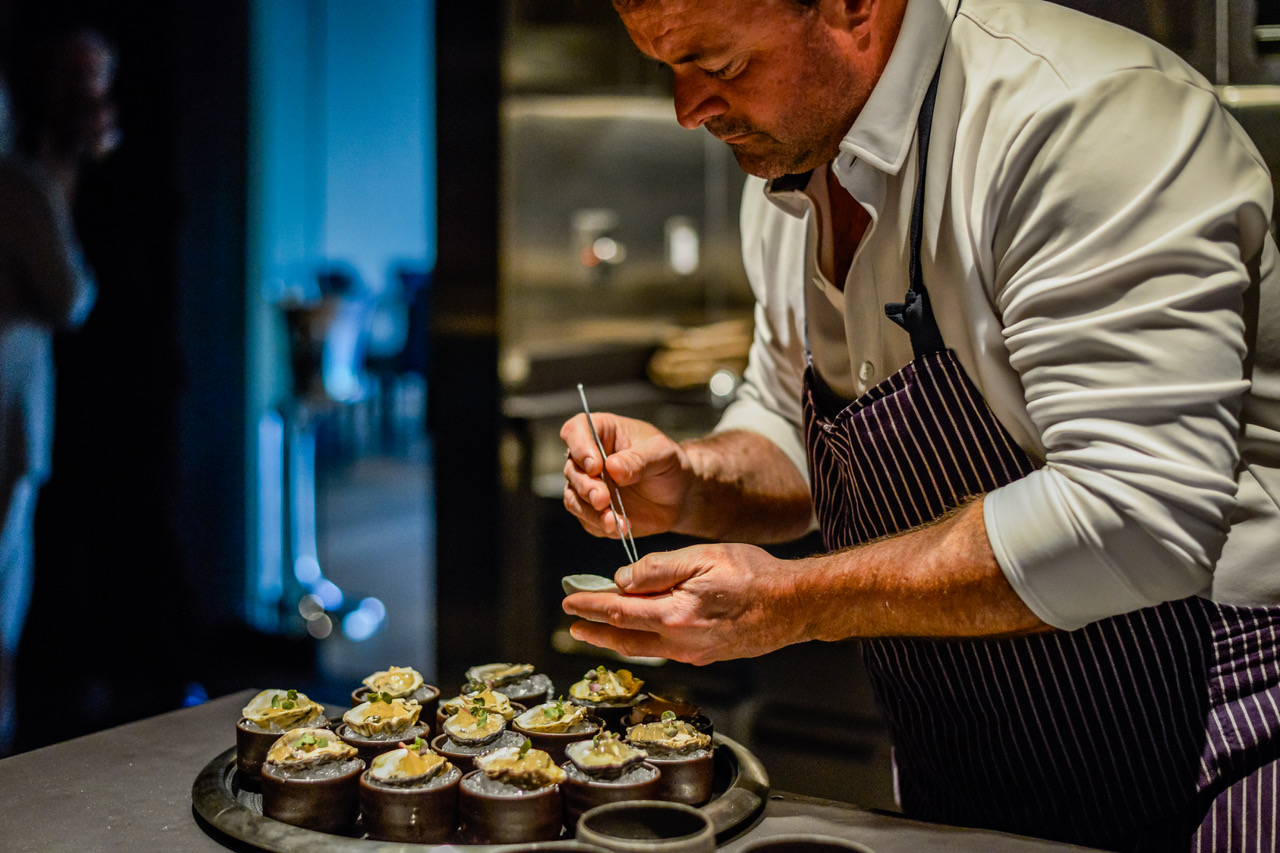 Foodies and Northern Sonoma County locals alike were delighted earlier this fall when Chef Douglas Keane reopened Cyrus, the Michelin-starred restaurant that once lived on North Street in downtown Healdsburg.
The restaurant's new digs are on a vineyard property in Geyserville. It's safe to say the place is better than ever before.
For Keane, Cyrus 2.0 is a manifestation of a new way of thinking about fine dining. These changes are evident in several areas. First, instead of offering a traditional sit-down meal, the new Cyrus revolves around a progressive experience where diners will move through four rooms, consuming at least 20 bites and dishes along the way.
The experience begins in the Bubbles Lounge, where a Champagne cart—a subtle homage to one of the most distinguishable highlights of the original Cyrus—also will serve liquid nitrogen-chilled martinis, white truffles, and caviar.
Next, diners will move through the wine cellar to the kitchen and gather around a counter where they can interact with chefs and sample appetizers and the first few (small) plated courses.
Main courses will be served in the most traditional space, a glass-walled dining room with vineyard views and an elaborate water feature. Each meal culminates in a secret dessert room where a chocolate waterfall gushes down a back wall.
"We have brought a new dimension to the stasis of the prolonged dining experience with our Dining Journey format that moves guests through different spaces in the restaurant," Keane said.
He added that there was nowhere else he wanted to open the restaurant, largely because of the bounty of northern Sonoma County. "As a chef I can't help pointing to the ability to grow the best produce in the world alongside world class wines. We are very lucky to be in such a beautiful and abundant corner of the world that supports what we do and makes it possible."
Another important aspect of Keane's new digs: A different way of approaching staffing.
Here, Keane says he is committed to cross-training and to paying cooks and other service workers fair wages.
Captains, who oversee service, will learn to plate and prep; cooks will learn to drop, clear and serve food. The goal is to help all employees become familiar with the business from top to bottom. What's more, Cyrus is tacking on a 20 percent service charge, which goes back to the restaurant to help offset higher wages. Any tips on top of that will be split evenly among the staff. Down the line, Keane hopes to find a way to offer four- and five-day workweeks.
"We believe it should be possible to earn a living wage in this industry that is so popular and vital to this tourist destination," he said. Cheers to that.