BOB CABRAL: ROCKING THE GOOD LIFE
Over the course of his career, Bob Cabral has had one basic philosophy: Do it right all the time, even if no-one is looking.
This mantra applies both to his winemaking and to his life. Cabral is a two-time recipient of Wine Enthusiast's "Winemaker of the Year" award, and he has crafted legendary wines for iconic labels such as Williams Selyem, Three Sticks, and others. He also is a chronic philanthropist, gifting large-format bottles to fundraising auctions, and donating big bucks to a variety of local and community charities over the years. The philosophy also carries through to Cabral's most recent project: An eponymous label with a small tasting room inside the Flight Deck winery collective on the Healdsburg Plaza.
With the latest endeavor, Cabral aims to focus on the best of everything he can find. This means the best grapes and the best blends from the best vineyards, and the best barrels—some of which he gets custom-made and custom-toasted in France. It also means little to no intervention—a process he feels lets the grapes' true flavor shine through. "When people taste these wines, I hope the experience goes beyond the cranberry, cherry, clove, and other descriptors we've come to accept as typical," he says. "I want people to feel them, go back to memories of another time, and get caught up in creating new memories."
In addition to wine and giving back, Cabral's other big passion is music. The music vibe is prevalent in the Bob Cabral experience today—he correlates each label to one of his favorite songs, the font on his website evokes The Grateful Dead, and his tasting room is adorned with prints of original artwork by Grace Slick.
Looking forward, Cabral sees himself becoming more of a mentor for younger winemakers, passing along the knowledge he's gleaned over the years. This, of course, is Cabral doing things right. Which is precisely why we consider him a friend.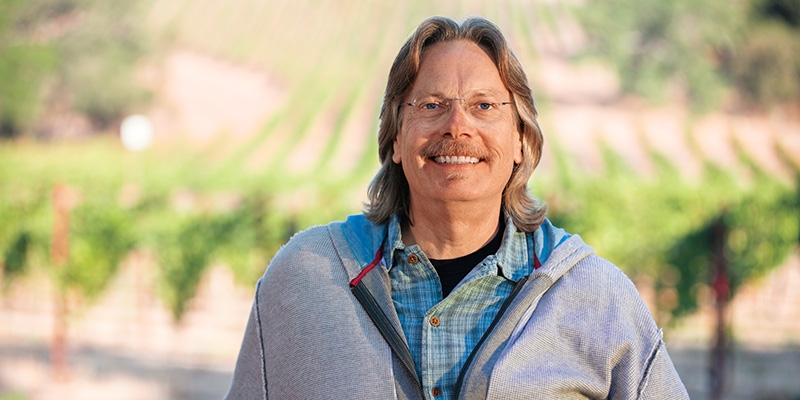 *Photo courtesy of Bob Cabral