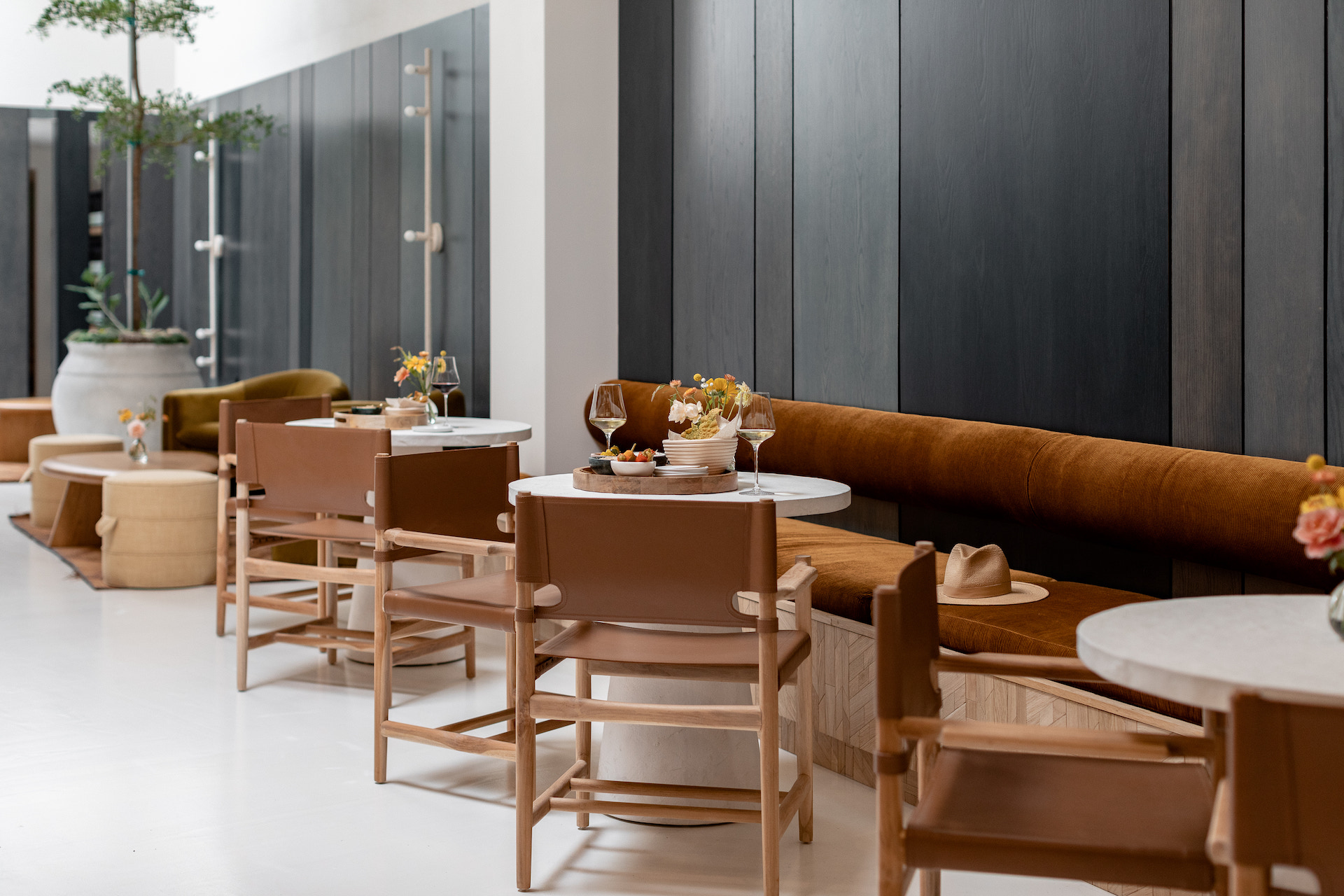 Autumn is upon us, which means the Healdsburg community is heralding the arrival of harvest, the most exciting time of year. While vineyard teams pick and crush grapes into wine, elsewhere around town entrepreneurs, artists and winemakers are celebrating different events and milestones. Here are a few of our favorite happenings this month.
Sonoma Coast Pinot Noir and Chardonnay star at Marine Layer Wines, the newest tasting room on the Healdsburg Plaza (featured above and below – photo credit: Gretchen Gause). The salon, adjacent to the Downtown Bakery, opened this month and already has established itself as a gathering place. Standard tastings include six wines and a spread of plant-based nibbles from Little Saint is available as well. Marine Layer also offers wine by the glass until 7 p.m. daily. The winery is the brainchild of Banshee Wines alums Baron Ziegler and Rob Fischer. If you go, be sure to see the swanky co-ed restrooms.
Shopping fans, rejoice: Market 377 has moved, expanded, and rebranded as Lucky Heron. The new store is located off the alley just north of Hotel Healdsburg, a stone's throw from the old space and from Charlie Palmer's Dry Creek Kitchen. Owner Michelle Schultz has carried over the quirky-cool vibe from her previous space, and expanded offerings to include more clothing and accessories, as well as more jewelry from local designers. Come holiday season, Schultz donates a portion of sales from certain items to local nonprofits, too.
Wine parties on the Healdsburg Plaza are back, and the Healdsburg Crush event on October 17 is sure to be an unforgettable day of Pinot Noir and philanthropy. The event spotlights Chardonnay, Pinot, and Sparkling Wine from more than 60 different wineries in the area. All proceeds benefit the Boys & Girls Clubs of Sonoma-Marin. General Admission tickets get you access to a tasting area on the plaza open from 11 a.m. to 3 p.m.; tickets for a separate VIP brunch at The Matheson are available for purchase, too.
A new digital magazine from the Healdsburg Chamber of Commerce provides a beautiful and inside look at life in and around Healdsburg. The magazine, titled "Harvest Celebration," includes welcome letters from Mayor Evelyn Mitchell and Chamber CEO Tallia Hart, as well as a feature about Wildhaven Sonoma, a new glamping destination in the Alexander Valley. The rest of the magazine lists Chamber members and includes photos from recent Chamber events. Even for those who aren't members, it's a great perspective on what's happening around town.