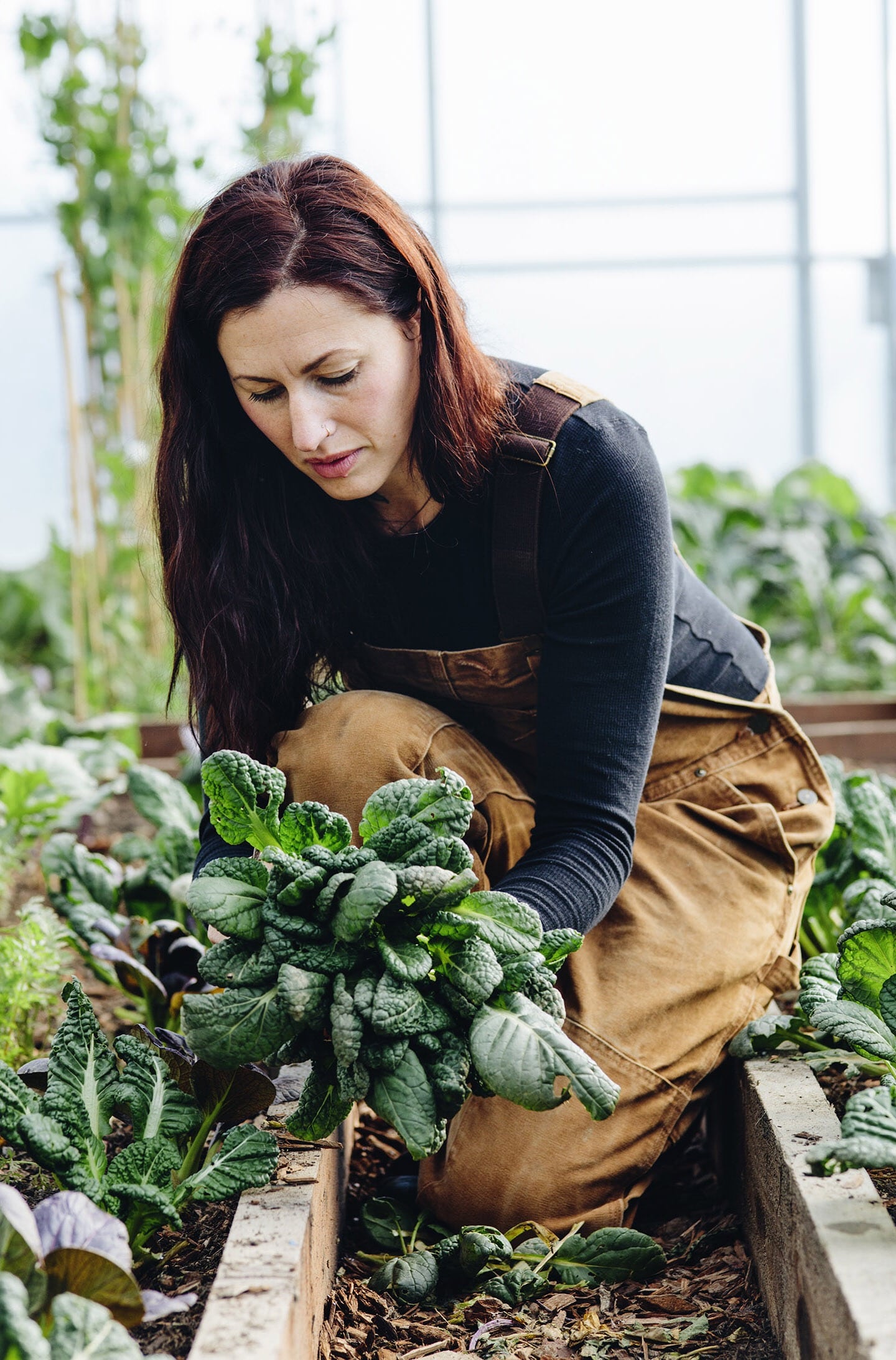 REFINING LOCAL CUISINE
SingleThread co-owners Kyle and Katina Connaughton are all about keeping things local.
Kyle, the executive chef, incorporates as many local ingredients as possible into his three-Michelin-star cuisine. Katina, head of the restaurant's culinary gardens, grows the produce her husband uses on a 24-acre farm in the Dry Creek Valley that they purchased last year.
If these two facts don't establish enough of a local connection, consider this: Both Kyle and Katina live in Healdsburg, and the duo is opening a brand-new vegan restaurant at Little Saint, here later this year.
The Connaughtons' journey to Healdsburg evolved over the course of two decades. They met in the early 1990s in the suburbs of Los Angeles—at a punk rock show—and ended up in the same high school shortly thereafter.
The couple got married and started a family. Then they hit the road, first moving to a rural fishing village in Hokkaido, Japan. It was here that Kyle got a job working with Chef Michel Bras at his eponymous restaurant, and where Kyle developed his love of cooking with donabe, or clay pots. Katina, meanwhile, studied sustainable farming techniques—techniques she broadened and amplified on her own.
After Japan, the Connaughtons moved to Bray, England, where Kyle landed a position working with chef Heston Blumenthal at the world-renowned restaurant, The Fat Duck.
Throughout these travels, the two of them dreamed of moving back to California to start a farm and restaurant. Finally, in 2014, they had their chance. The couple moved to Healdsburg and began prepping to open a restaurant with an ever-changing menu built entirely around the freshest ingredients from within a small radius. In late 2016, SingleThread was born. "Though the timeline was long, the vision started in our late teens and early 20s," says Katina.
SingleThread has a small, five-room inn upstairs and became a member of the Relais & Chateau portfolio almost instantly. Then, in 2018, the restaurant received three Michelin stars, becoming the first Wine Country restaurant on the west side of the Mayacamas Mountains to do so.
During the pandemic, Kyle and Katina made news twice: First when they purchased their current farm in the heart of the Dry Creek Valley, and second when they announced they'd be opening a more casual, Vegan-only restaurant at the old SHED location. The new eatery will be named Little Saint, a Wine Country outpost of a restaurant with the same name in San Francisco.
Kyle describes the new venture as an opportunity to show off the best of his and other local farms at every moment. "For those of us who live here locally, the new restaurant will be a real community center," he said. "And for visitors it's going to be a great way for us to showcase what we love about Sonoma County through the produce."