BUILDING BETTER RENDERINGS
Homes at Mill District will be one-of-a-kind, so it has been a top priority for us to create extraordinary renderings of the homes for prospective owners. We hired MOLT Studios out of Seattle to achieve this goal. Newsletter editor Matt Villano recently sat down with MOLT co-founder Nathan Shobe to get a better idea of how his company operates, and what they'll be doing for us.
What is MOLT and what sort of services do you provide?
 We founded MOLT in 2013 with an interest in experimenting with digital image making and craft-based production. We borrow from film and photography, and we try to imbue our images with a sense of permanence and lifestyle that's attractive to buyers and developers alike.
To what extent do you engage with developers and architects?
Ideally, we would begin to collaborate on the project during schematic design and start to work directly with this team as a third arm to better facilitate the design process with the client. This way the client can see in real-time what's happening and how their decisions resolve themselves in three dimensions with light and materiality.
How would you characterize your involvement with Mill District?
We're coming in during design development. The project has a robust landscape package and highly refined interior design elements. We're working to create materials that will allow prospective buyers to select residences and better understand the nature of amenities Mill District has to offer.
What, in your opinion, makes this project special?
This project is a touch of urban living in a small town, which we think will prove to be appealing to many buyers. The development will fundamentally add to the character of Healdsburg. It's one of the most exciting projects we've undertaken in the multifamily category.
Please describe what you are creating for Mill District.
They're renderings but really each one is an immersive experience. We're creating both still images and animations that will find their roots in cinematography. The animated components will employ slow and deliberate camera moves, allowing the viewer time to digest the visuals. It will give this very auspicious view of the project and of the interiors. Additionally, we'll create some 360-degree spherical images so you can browse it on the web and view the park and surrounding amenities to the site. All told we'll produce about 20 interior renderings, four or five exteriors, and an animation.
How will you do all this?
Kim Carroll sent up his drone last week to capture photography that we'll use in the renderings. We'll use a combination of drone photos and digital interventions to create the majority of the digital content.
What do you hope people take away from these pieces?
A sense of the sophistication of design. In this case, it's second to none. We hope to create an experience where you can 'sit' in your lofted living room and get this view of the heritage, old-growth trees and the landscape design and everything that celebrates the site's history as a lumber mill. We hope (our renderings) convey excellence in design but also a way of life.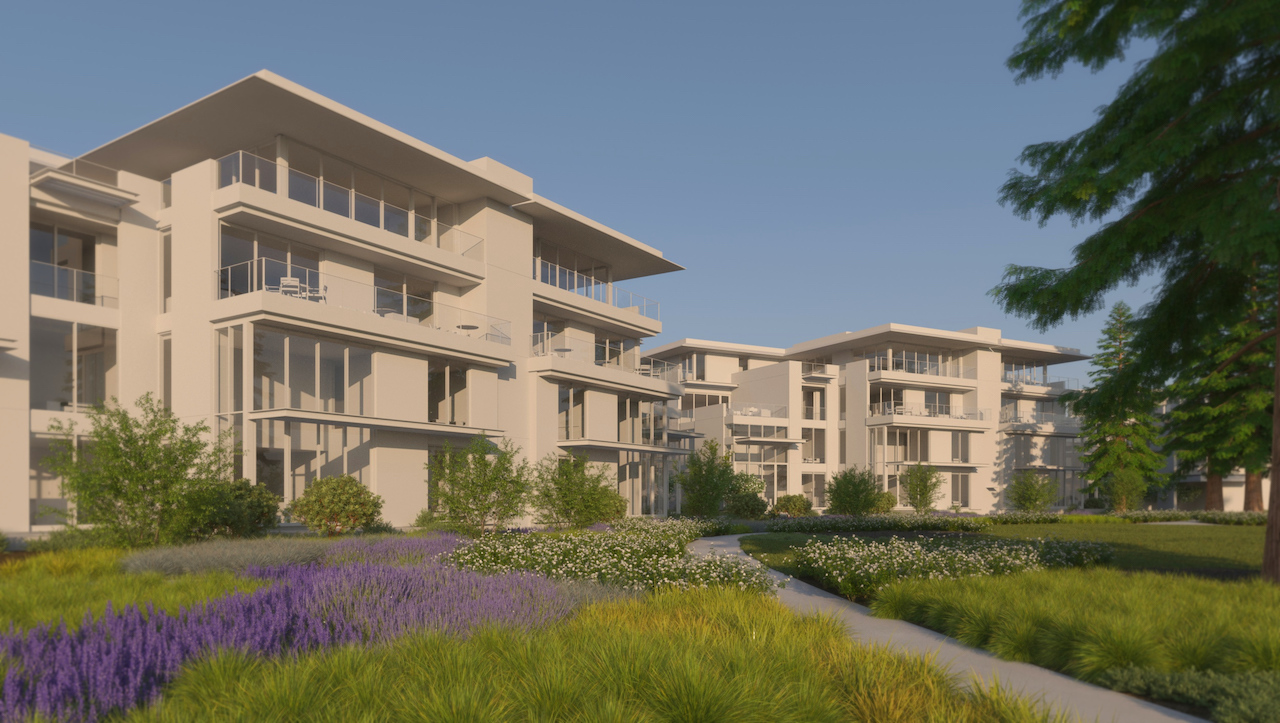 Pictured here: new rendering in progress.