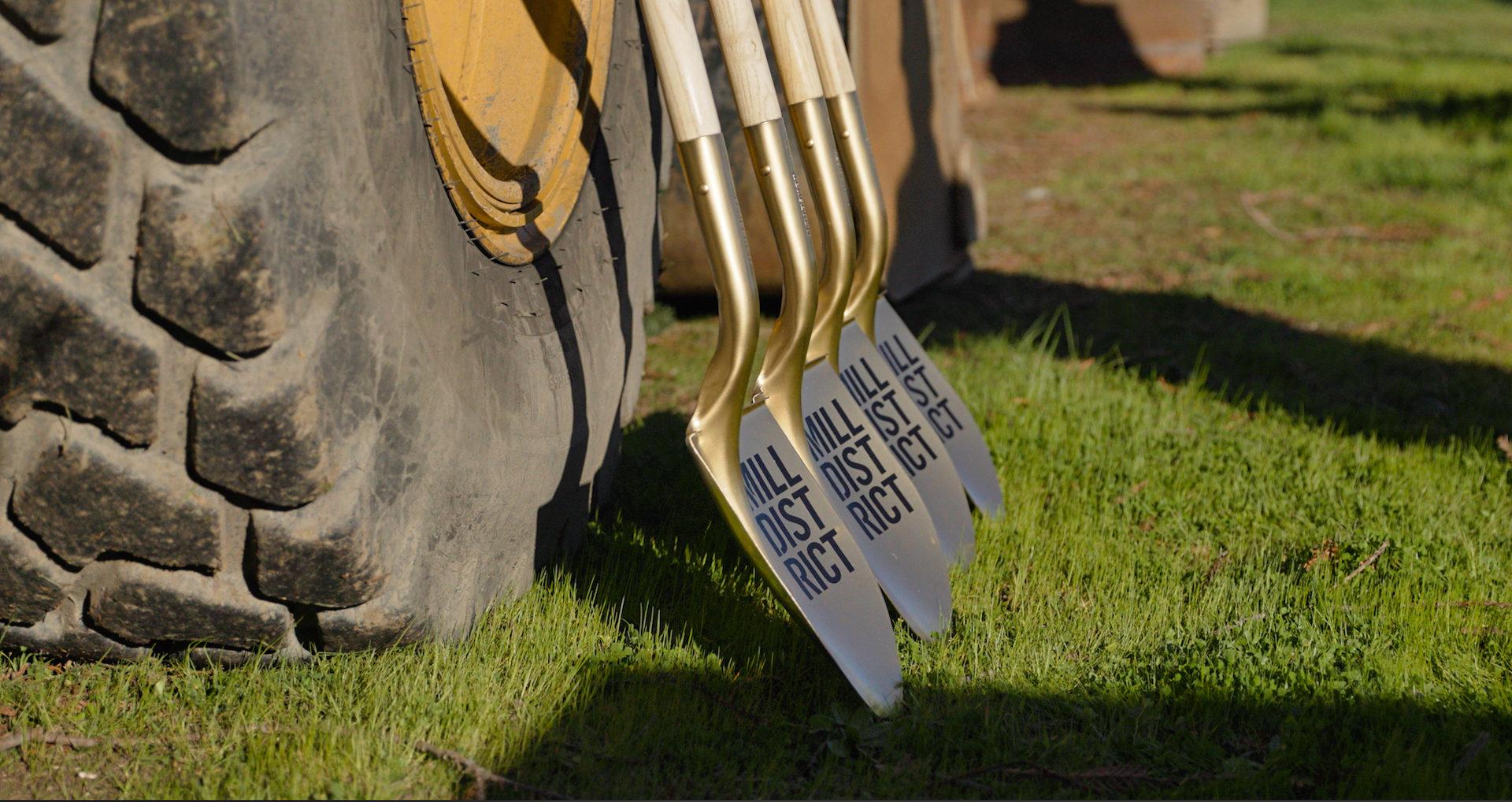 BREAKING GROUND ON A NEW NEIGHBORHOOD IN HEALDSBURG
After five years of planning and dreaming about developing our new neighborhood on the southeast side of the roundabout in downtown Healdsburg, we are thrilled to announce that Mill District is under construction. Our Director of Construction and Design Jim Hall agrees this news is worth shouting from the rooftops. "Approvals and in turn starting construction in California takes time," he said. "The fact that we can finally put shovels in the ground is huge for Mill District and Healdsburg."
Due to Covid-19 restrictions, we didn't host a traditional groundbreaking ceremony (of course all of you would have been invited!), but we did ask a few community members to join us and commemorate this monumental occasion (socially distanced and masked of course). And so you can share in the excitement, we hired @kimcarrollphoto to create a microfilm of the equipment arriving at Mill District and the first shovels going in the ground! (We'll be releasing it in a couple of weeks.)
Over the next several months, crews will be laying (literally) the groundwork for Mill District – putting in water lines, power lines, and other infrastructure that run from Healdsburg Avenue into Mill District. Next, our teams will cut roads throughout the Mill District site. Hall expects heavy machinery such as excavators and bulldozers to be working on the site pretty much every day from here on out. "All of a sudden, Mill District is going to look very busy," he said.
Of course, this is only the first groundbreaking we'll be celebrating in the next few months. As Hall explained, we expect to break ground on Lot 7—the workforce housing portion of the neighborhood—this spring, and we should break ground on the first residences in the summer. More on those later…
Finally, Mill District is coming to life! Stay tuned for our Groundbreaking Microfilm and updates on infrastructure and construction.