Duskie Estes: Queen of Glean
One of Healdsburg's most famous food-and-beverage all-stars has pivoted from a career in kitchens to a job coordinating the region's primary food distribution network. The chef, Duskie Estes, took over in late April as the new executive director of Farm to Pantry.
Her new digs are essential to getting people in the greater Healdsburg community fed. The organization works behind the scenes with local farmers to harvest surplus produce, and coordinates with local restaurateurs to identify surplus food, clean it up, and get it into the hands of people who need it most.
The organization runs on volunteers. Since 2008, this Healdsburg nonprofit has donated more than 235 tons of produce from the fields, farms, and backyards of Sonoma County.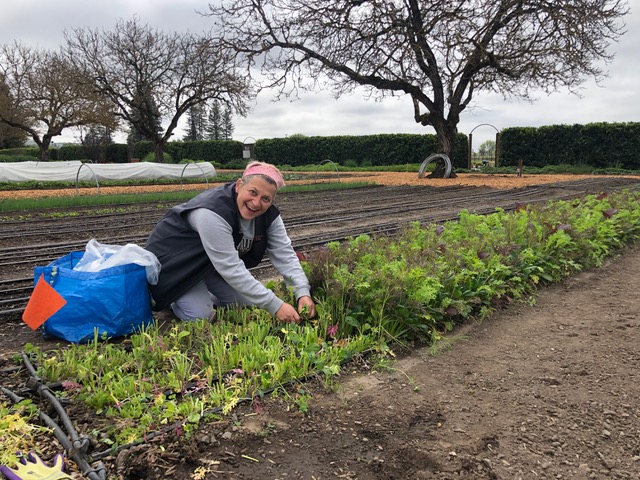 "Farm to Pantry is a great way to fight back against food waste—especially now, at a time when so many local families are struggling to endure the challenges of the pandemic," she says. "Our mission is to feed people, but we also hope to improve and increase coordination between those who grow food and those who consume it."
For Duskie, a native of San Francisco, taking the job at Farm to Pantry was like coming full circle. One of her first jobs in the industry was to run the kitchen at Glide Memorial Church in San Francisco. She and her team were feeding 3,000 people a day back then. In more recent memory, Duskie and her husband John Stewart owned Zazu Restaurant, which was in the Barlow in Sebastopol and destroyed in the floods of 2019, as well as Black Pig Meat Co., an artisan bacon company.
In 2011, Duskie and John were also named "King and Queen of Pork" at a national chef cook-off named 555 Cochon. Duskie also has several television appearances on "Diners, Drive-Ins and Dives," "Guy's Grocery Games," and "Next Iron Chef," to name a few.
Two of Duskie's first gleans were at Front Porch Farm in Healdsburg and Jackson Family Farms in Santa Rosa. From there, she and some volunteers went on to DMS Ranch in Sebastopol to pick 1,500 pounds of lemons. Farm to Pantry calculates a quarter pound of any fruit or vegetable as one serving per person, so together her crew gleaned enough food for 6,000 portions.
In addition to collecting and managing (and sometimes re-packaging) surplus food, the Farm to Pantry team also redistributes food waste from restaurants and other shops. Last week, Duskie said a group of volunteers came through to collect extra items from exhibitors at the Santa Rosa Farmers' Market and walked home with more than 70 pounds, or enough portions of produce for 200 people. In one month, they have doubled the number of partner farms and tripled the pounds gleaned, thereby tripling the amount of food distributed to people who are hungry.
What's more, under Duskie's leadership Farm to Pantry has expanded its reach to include Penngrove, Sebastopol, and Cloverdale.
"It's kind of like I get to be the cruise director for Robin Hood, except we're not stealing," she said. "It's a win-win-win—for everyone involved."