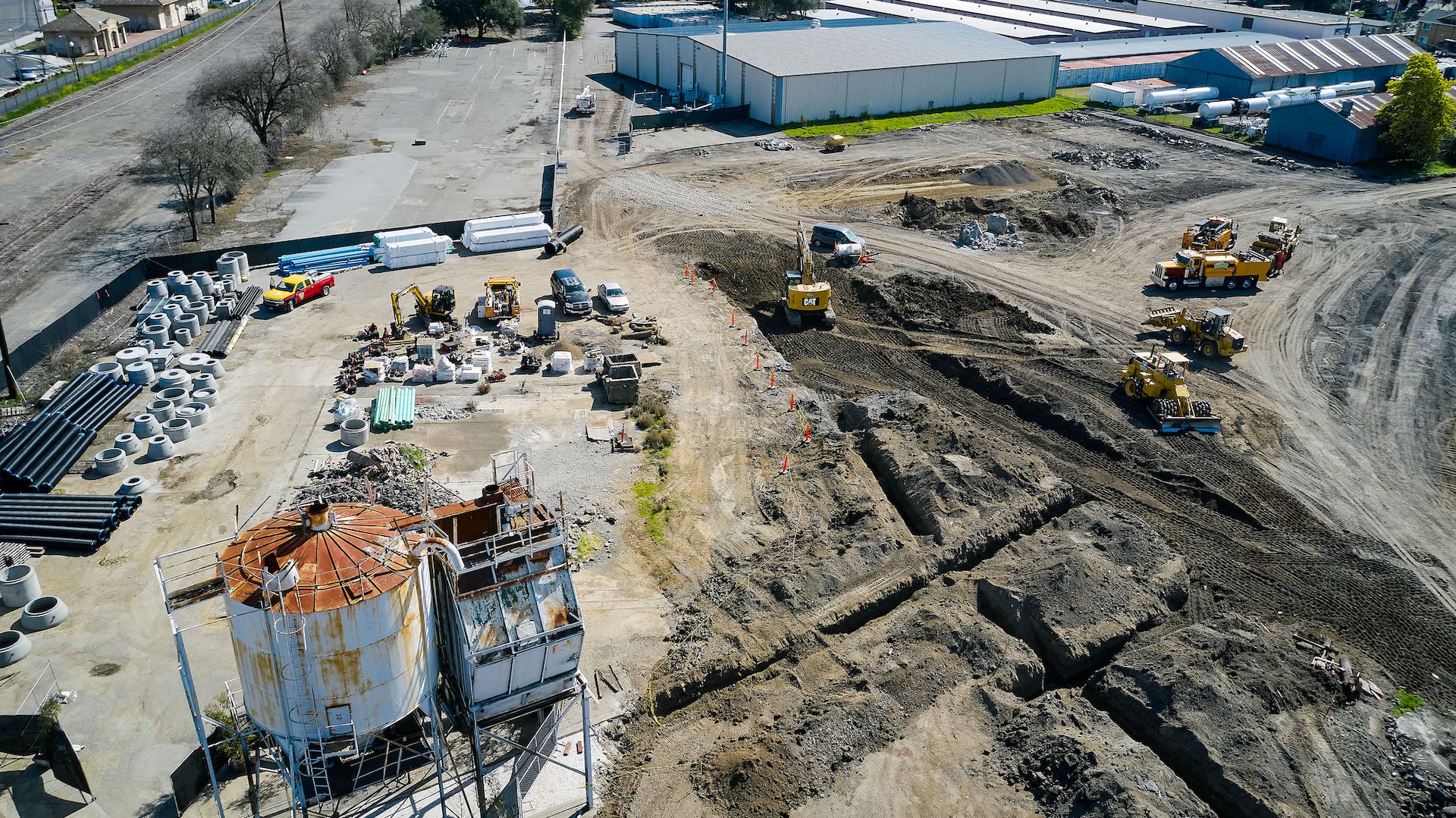 Work is underway on the Mill District neighborhood and already, big changes are evident.
According to Jim Hall, our director of design and construction, to this point site developments fall into two major categories: Off-site improvements and on-site improvements.
All the off-site improvements are happening around Healdsburg Avenue. Crews from our construction partner, Ghilotti Bros, Inc., continue to work on subterranean infrastructure including sewer pipes, storm drains and water mains. Because Healdsburg Avenue itself is more than 100 years old, crews have been battling thick roadbed, including nearly 24 inches of concrete and asphalt. Despite these challenges, crews are getting the job done.
"At the end of the day the city and community will have a completely updated infrastructure system in the road," Hall said. He added that barriers will continue to redirect traffic for another month or so. Once crews wrap up their work on the roadway, they'll move to the sidewalk and install street lights designed to match those that line Healdsburg Avenue on the north end of town.
On the Mill District site itself, the new street alignment is in place and up to grade. The main road into the neighborhood goes uphill very slightly from the entrance, then heads back downhill as it makes its way around our grove of redwoods. When you're in a vehicle this rise is barely detectable; on foot, however, you get a sense of the road alignment and realize that you're nearly three feet in the air at the highest point.
Hall says this grading will be critical for eliminating standing water in the neighborhood, since the Mill District site has never drained adequately—until now. "By elevating the road, as buildings come online the site will move water into the storm drain system," said Hall. "We've quite literally changed the topography of the site. It's nothing major but it's enough to make a big difference."
Looking forward, Hall said he expects the next phase of the project to focus on Lot 7—or what we call The Exchange, featured in this months blog. This phase likely will begin sometime around mid-April, said Hall. Already, the back section of the site is fenced off and has temporary water and power in place.
Overall, Hall said he is happy with the pacing of work accomplished so far. "This unseasonably great weather has helped move things along," he noted. Hall added that the most exciting aspect of the last few weeks is the fact that the neighborhood is finally taking shape.
"You don't have to be a construction expert to see the progress anymore," he quipped. "It's not on paper anymore, things are happening, and we're excited to be able to show things moving to the city and the community as a whole."